12 June 2019
Green Acres is the largest and most trusted home care services company in New Zealand. Founded in 1991, they are an established New Zealand-owned franchise operation with 650 franchises and 70,000 regular customers.
With their vast nationwide network of franchises, each occupying its own geographic footprint, Green Acres was reaching market saturation on two levels: 1) they had limited ability to grow their franchise network further and 2) the franchises themselves had reached capacity servicing their regular long-term clients.
Yet it was clear from Green Acres' own market analysis that excess consumer demand for home care services still existed. Specifically, there was an untapped market of consumers seeking 'one- off' home care services. Their franchises were either busy servicing their established clientele or this segment was seen by franchise operators to be a low-return market.
In order to achieve their growth targets, Green Acres knew they needed to look outside their traditional franchise model to meet this demand.
Opportunity: Green Acres GO
Green Acres recognised the success of the new online marketplaces such as Uber that are designed to bring buyers and sellers together without the need for a traditional intermediary or 'middleman'. The Uber model is successful because it is a mostly automated and managed forum that securely matches consumers seeking a 'one-off' car ride (buyers) with an available pool of available drivers (sellers).
Their goal was to replicate this model in order to facilitate the transaction between consumers requesting a one-off home care service (buyers) and a vetted crew of independent operators available (sellers) for a selected number of hours per week offering home care services.
With our long and proven history as their IT partner, Sandfield was engaged to build their online marketplace, aptly named Green Acres GO. This project required a range of capabilities such as database management, mobile app development data integration and financial data integration and we were able to draw on the expertise from several project teams within our group.
The Sandfield Solution:
Sandfield built the Green Acres GO platform to integrate the quote creation, job scheduling and payment processing. It also reflects each of the four stakeholder group's key requirements which are summarised as follows:
Consumers seeking a home clean or lawn care service

to obtain an accurate, transparent, reliable quote quickly and easily

to have the service carried out promptly, securely, and to a high standard

payment made easily, with online privacy maintained

The 'Crew' or workforce of operators (cleaners and lawn mowers)

to be fully booked for the hours they have made available

to have the flexibility to self-manage their available hours, week to week

to have ease of administration and surety of payment

Green Acres GO Administrators

a user-friendly tool that allows oversight/administration of the programme,

seamless secure billing, reconciliation, payment to the crew, ability to override

ease of reporting, and ability to identify issues quickly

Green Acres Management

seek ultimate oversight of the program

high level of automation

scalability and a return on investment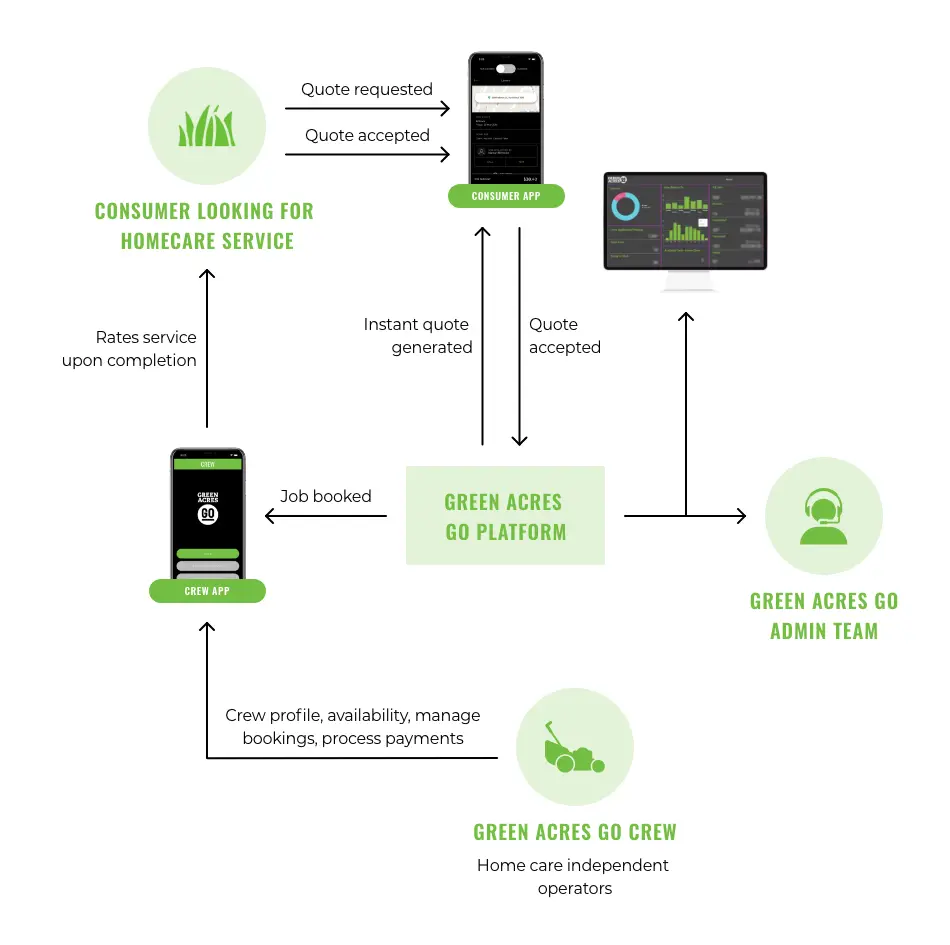 Quote generation
The first step of the process is the generation of a quote. Sandfield worked with the team at Green Acres and only essential variables were built into the logic of the instant quote generation system, thus balancing the need for an accurate valid quote without over-burdening the consumer. Sandfield worked alongside an external UX designer to ensure the user interface made the customer experience quick and intuitive. The result is that customers can self-generate a lawn mowing quote by answering 3 simple questions, with visual aids provided.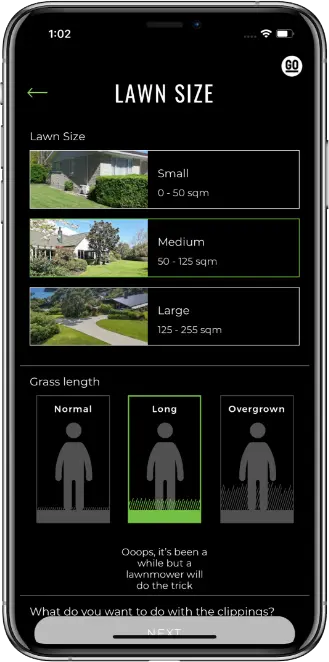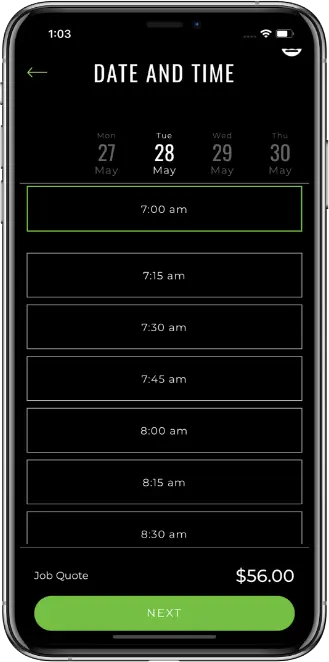 Consumer app
Job scheduling and processing
Quote acceptance immediately generates a confirmed booking and the customer is notified via their app. The logic which assigns the job to a crew operator was developed courtesy of an algorithm created to best match the job requested with a crew operator based on criteria such as crew profile, availability and proximity.
The crew operator is also notified immediately of the confirmed booking via their crew mobile app. This crew app, distinct from the consumer app, was built for the needs of the crew operator so they are able to post their available hours, accept jobs, manage their work schedule, and process payment upon completion of the job.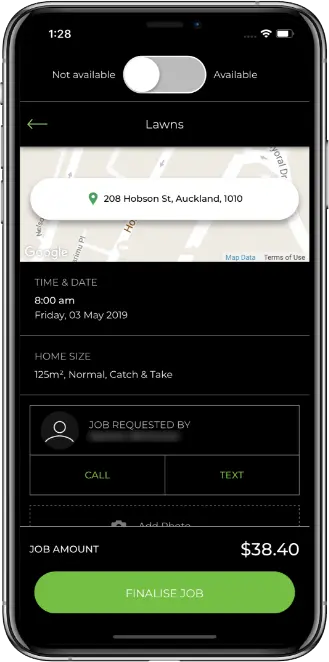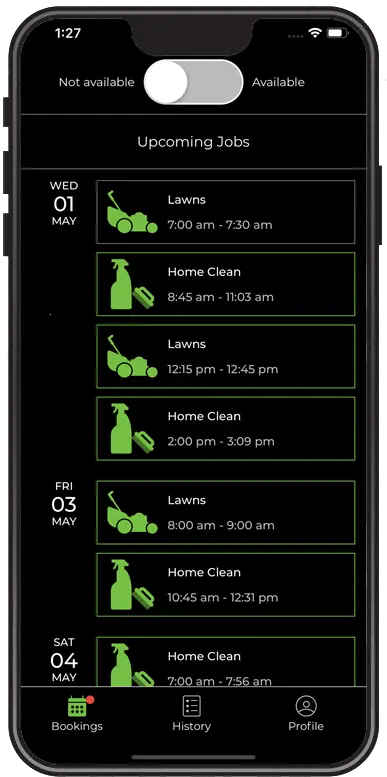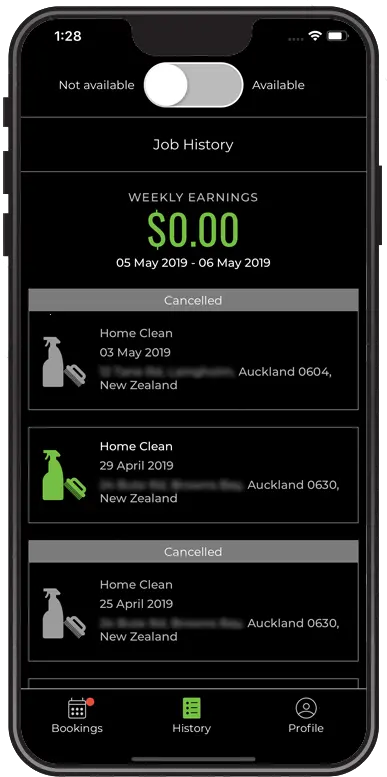 Consumer app
Once the job is completed, the customer has the opportunity to place feedback via their app. This crew rating is another criteria used in the scheduling logic for assigning jobs and helps ensure that Green Acres GO delivers a high standard of service consistent with their brand.
Throughout development, the need for security was considered, and features such as anonymous calling and messaging between customer and crew were part of the build. The Administrator module provides total oversight of the programme via user-friendly reporting dashboards and backend features include financial integration, courtesy of Sandfield's On Account product.
Results:
The GO platform gives Green Acres access to an untapped segment of consumers previously considered too difficult or infeasible to target. "Unlike other 'digital marketplaces' where the consumer and provider still have to develop a relationship and manage their booking, GO completely eliminates that step," says Logan Sears, CEO of Green Acres, referring to the high level of automation of the GO platform.
The GO app has also allowed Green Acres to tap into a new workforce of home care operators. To date, 2400 potential crew members have filled in the application form and/or downloaded the GO app as a result of Green Acres GO's recruitment drive.
Green Acres are highly optimistic about this GO online marketplace and customer reviews thus far have also been positive. But most importantly, says Sears, " GO meets our strategic objectives of being 'current and portable' with a customer-centric focus and that's (expletive deleted) awesome."
Related Articles