27 August 2019
Tour operators such as car and campervan rental agencies and tour bus/rail operators spend a great deal of time organising ad hoc itineraries and booking activities on behalf of their customers, yet the process of recouping the commission fee for their referral is typically rudimentary, manual-based and inefficient for all parties to manage.
Equally, their customers' tour booking experience can be complicated and disjointed, as they embark upon an arduous task of finding activities relevant to their travel plans. Accommodation and activity options are a mishmash of vouchers, pamphlets and spoken information offered up in haste by the driver/guides/agents as their overwhelmed customers pick up their rental vehicle or scramble off their tour bus.
The Challenge
Travel business entrepreneurs Neil Geddes (founder of businesses including Kiwi Experience and Oz Experience) and Campbell Shepherd (former CEO Base Backpackers) knew there was an opportunity to create a tool to improve the experience for all three stakeholders: the traveller, the tour operator and the supplier (accommodation, attractions and activities providers).
The vision for their tech venture, called Lassoo, was to develop a white label 'in-trip' customer app that tour operators could offer their customers. The app, branded and tailored specifically for that tour operator, would feature itineraries, personalised to each traveller and make it easy for them to self-manage and book local attractions and activities.
Lassoo knew that the platform needed to be win-win for the tour operator and suppliers to be successful. If a tour operator were confident they would receive commission fees from the bookings they generated, they would be motivated to enable suppliers' bookings.
With Lassoo's vision, Sandfield developed this innovative, streamlined commission-sharing online platform to bring travellers, tour operators and tour suppliers together to transact bookings.
The Solution
The traveller's experience: investment in the user experience pays off
Stray Australia and Stray New Zealand are hop-on hop-off bus and adventure travel tour operators and early adopters of the new Lassoo booking platform.
For Stray, a typical user journey is an overseas traveller purchasing a multi-day pass to explore a region of Australia or New Zealand. As a value-add, their traveller downloads the Stray Mate - branded app with their personalised travel itinerary pre-loaded.
Throughout their trip, the traveller uses the Stray Mate app to:
book their seat on a Stray bus for the next leg of their journey
find out more about their next destination
review the range of options for activities available
book attractions and activities at market leading rates.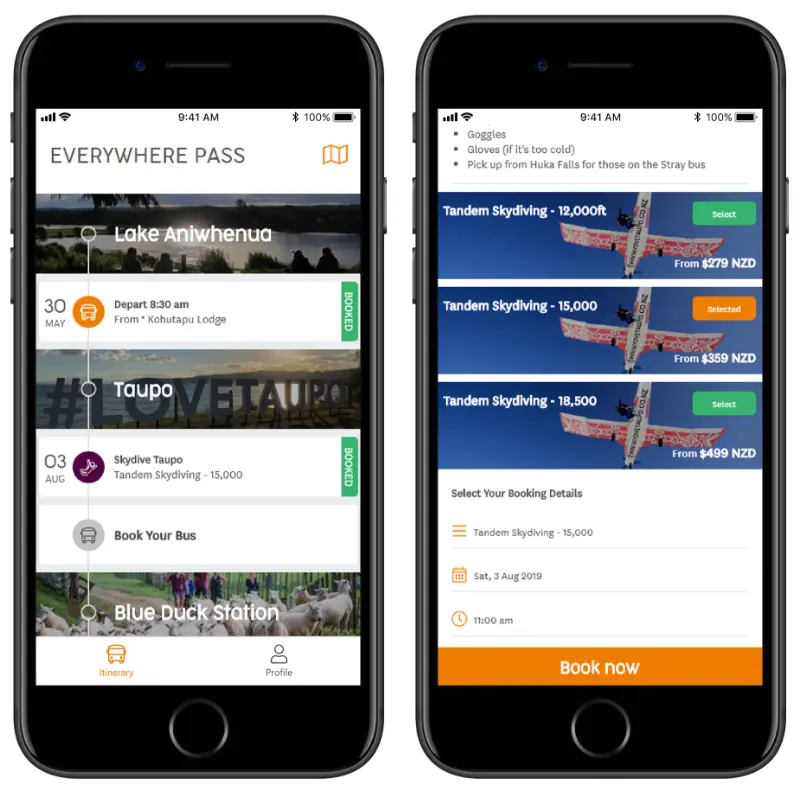 Stray Travel invested in creating an appealing and engaging app that matched the Stray Travel brand experience. By using high-quality imagery, strong copywriting, and well -crafted product/activities descriptions, the result was an outstanding mobile experience for their traveller. This investment has paid off; in the first 12 months since launch, 90% of all Stray's in-trip revenue is transacted via the Lassoo app equating to hundreds of tourism activities and accommodation bookings being processed daily.
Automated reconciliation and revenue-splitting
The positive traveller experience and a high volume of bookings transacted via the well-designed app is only part of the story. A sophisticated backend was required to support the brand promise. The unsung hero of this story is On Account, Sandfield's robust financial software and the backbone of the Lassoo platform that streamlines the experience for all stakeholders.
On Account was integrated with a travel content database and intelligent purpose-built booking engine to manage travellers' booking requests for an unlimited range of suppliers. On Account seamlessly handles the back-end settlement process from the receipt and reconciliation of traveller payments to the settlement of supplier accounts, including the required Tax Authority documentation. This is achieved with EDI integration provided by Crossfire EDI.
Unlike other payment solutions which require businesses to change their accounting processes to suit a particular product, Crossfire enables On Account to be compatible with all the external parties' existing financial systems.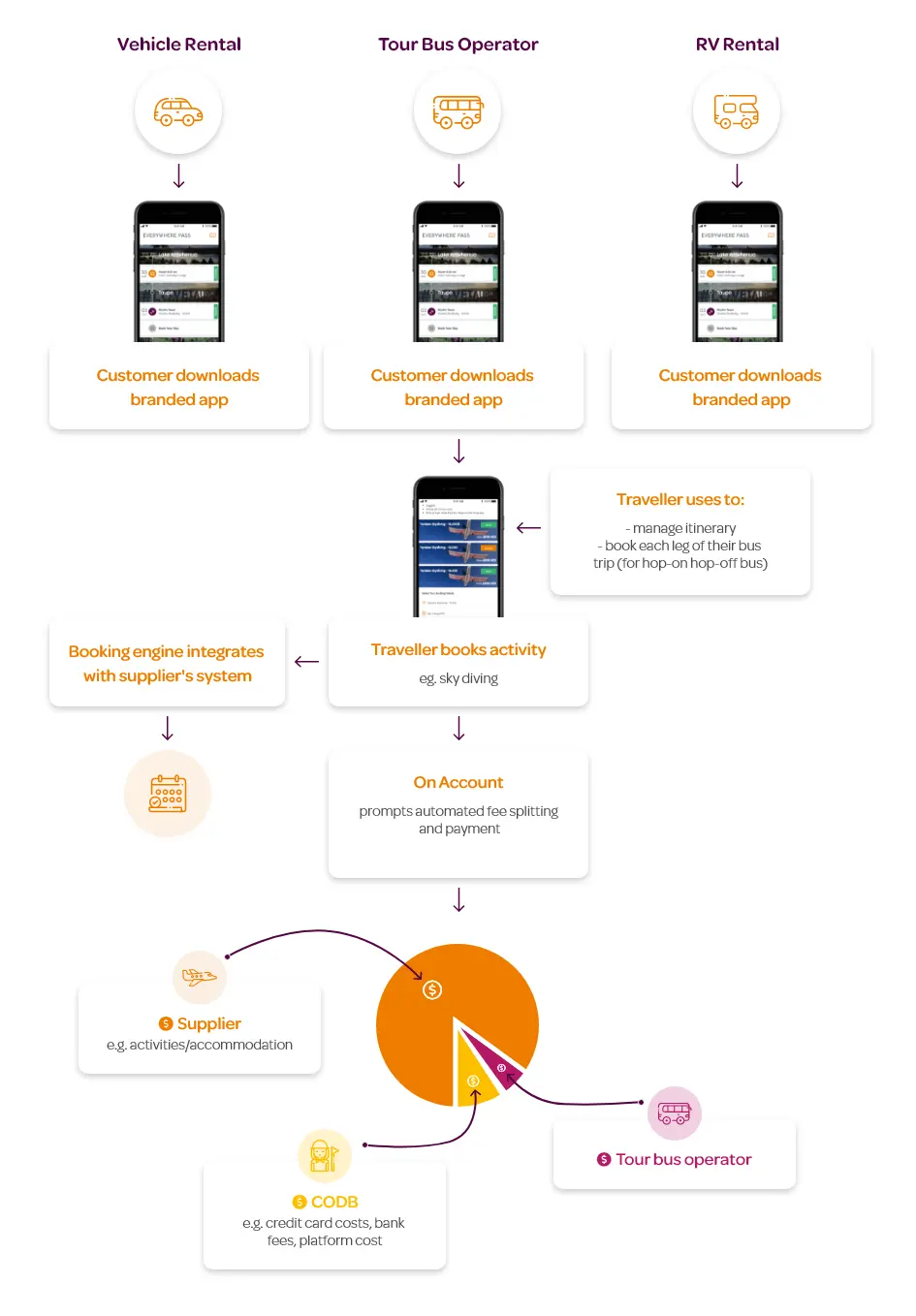 When a booking occurs, the following processes take place:
The booking payment is processed through Lassoo's payment gateway and bank account
Once payment is successful, the revenue share is reconciled, and split between the relevant parties
Funds are pushed to Lassoo's Trust account, and remittances, settlement advice and direct debit/credit files are created, ready for settlement
Upon settlement date, payments are released to the relevant external parties
Cancellations, supplier initiated refunds and traveller initiated refunds (and subsequent commission adjustments) are fully managed within the platform.
Lassoo's Admin Portal
The Lassoo offering has two administrative options; a fully-managed service or an enterprise model. In the case of Stray Travel, the business administrates the onboarding and management of suppliers and operator information via Lassoo's easy-to-use admin portal, making the programme fully scalable. Relevant travel options and activities can be specially selected and curated by the administrators to ensure a positive experience and high uptake for the profile of their particular traveller. All updates are then automatically pushed to On Account for integration. Click here for an in-depth view of the Lassoo platform and integrations.
The Results
The positive net effect of this platform is both increased revenue and reduced costs.
By streamlining booking capacity management, enabling faster booking confirmations, reduced customer support and reduced manual invoicing, the net effect is a reduction in Stray Travel's back-office administration.
Today, there is multi-million turnover through the Lassoo platform, which operates as a high volume/low transaction value model. In the 12 months since its launch, the platform has already facilitated 75,000 accommodation and activities bookings Performance has significantly exceeded expectations with 5,000 bookings in a single week during their peak season. The business case was based on 3 additional bookings per traveller and the actual figure is 9 bookings per traveller.
Reconciling such a high volume of relatively low-value transactions would not have been feasible without the seamless reconciliation that automation provides."The number one rule of this business is making it easy for travellers to pay and that's what this technology enables," says Brett 'Taxi' Hudson, Stray NZ CEO.
"At Stray, we're all about growing the travel category. The Lassoo platform allows all players in the tourism industry to capture revenue and seamlessly share commission on the sale of relevant activities to their customers. It's a step in the right direction towards connecting what has been a hectic front and back end for travellers and tourism operators alike," concludes Brett 'Taxi' Hudson, Stray NZ CEO.
What's next?
Following the successful launch of Stray Mate in NZ and Australia, the focus of the Lassoo team is to repeat the success of the Stray Mate platform and to re-badge the app for operators in the car/campervan rental industry and tour bus/rail operators in South East Asia, North America and Europe.

Find out more about Lassoo.
Find out more about how On Account can help streamline your financial processes.
Related Articles