This year I attended the hugely insightful UX Homegrown (UXHG), an annual submission-based community-curated design conference. UXHG aims to highlight the growth of the practice by sharing the often untold stories of UX practitioners and their projects, reflecting what UX looks like here in New Zealand.
All the talks were fantastic and insightful, there were a few particularly worthwhile case studies shared that demonstrate the widespread benefits smarter UX design can deliver that I'll relay in this blog-post series. You can read Part 1: Designing human centred experiences to delight customers here.
Stopping the product treadmill and putting users at the core
We were told the story of the 'product treadmill' by Kris Lane, UX Team Lead for Customer Products at Air New Zealand. Air New Zealand is an international airline renowned for its seamless customer experience (and subsequent healthy profits). Kris described how designing deliverables is sometimes accompanied by a sense of a relentless pace, where you're always delivering. That feeling of "deploy, deploy, deploy", the idea that there will always be a next deliverable, a next deadline.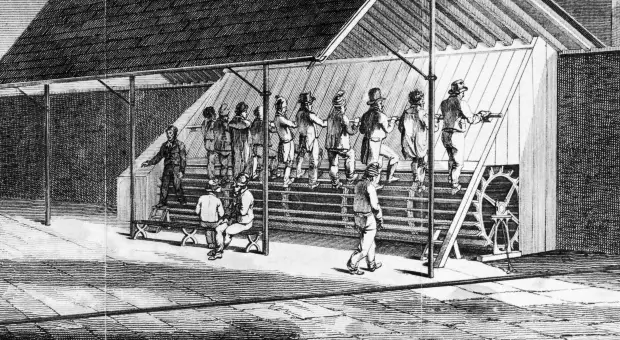 Did you know the treadmill was a product of torture?
When you're running this marathon, with your head down, you never really know where you're headed. It's hard to get a sense of direction and even harder to know if you're asking the right questions. You're churning out deliverables with no clear end in sight. But the product treadmill isn't all bad, after all, it helps us continually move forward. But slowing down is sometimes necessary, taking a step back can ensure you're thinking long-term and you're taking time to reflect on the broader vision, the shared goal and overall strategy, rather than the relentless delivery.
How do you find the time to slow down as a group and reflect?
Well, you don't - let's face it, there's only so many hours in a day. You just become smarter at managing the time you have. Efficiency is key: think about places your design team could become more time efficient. Could some of the initial phase be taken care of by the product team? Could a design system/design spec be set up so the design team doesn't need to be involved every time a button needs to be built? These questions open discussions about the better use of design time.
The biggest questions our brands face over the future of products/services are impossible to answer without taking the time to stop, step back and think. Kris relayed some of the big questions for Air New Zealand:
How does Air New Zealand rethink the in-flight entertainment system when the majority of their users are watching Netflix?
Should Air New Zealand redesign their years-old app even though there's nothing fundamentally wrong with it?
What happens when the experience of being on a plane no longer means you're disconnected from the internet?
These are all problems that Air New Zealand is working through answering right now. Challenges that require a holistic approach and a shared product vision to solve most effectively. Most importantly: they're questions that take time to answer.
How would Air New Zealand even begin to tackle questions like these?
1. Understand the problems (context) - Make sense of the problem and understand the intersection of all these products and their place in a giant ecosystem.
"Always design a thing by considering it in its next larger context - a chair in a room, a room in a house, a house in an environment, an environment in a city plan" - Eliel Saarinen
2. Understand that data is only black and white - Data is only a piece of the puzzle, it can't tell you the human stories.
3. Proximity and user testing - Develop an understanding of 'the grey areas', not the black and white data, the human stories. Bring in not only customers but mediators/influencers (including flight attendants and pilots) into the product design process. This allows designers to be the bridge between design, data, and users. It's an easy way to get perspective and insights into problems which can inform and validate your broader vision.
4. It's all pointless unless it's shared - It's very easy for someone to capture insights, but unless you're sharing it, it's not all that useful. It's about taking your findings and communicating them across all products and relevant teams.
5. Slow down, take time to reflect - Slowing down to stop and think about the problems. Moving fast only works when you have an unclouded sense of purpose. Reflect on the broader vision to maintain your sense of direction.
My key takeaways from UXHG 2018
Strive to truly understand your user's problems before you design a solution to solve them. Make sure you're getting to the root of the problem, not just the surface problem. Dig deep with users and make sure you ask the right questions.
Empathy is fundamental in creating solutions that resonate with users.
Test to fail and learn, don't ever assume your solution is the only one out there.
People give better feedback with paper prototypes, pens, scissors and glue.
Get out from behind your desk, find out how your solution works in the real world.
Consider all potential groups of users who will have an influence on the success of your solution. Get them involved early in the design process.
Creating solutions that stand the test of time requires time to step back and think.