Digital transformation is significantly changing the way accountants and finance teams work.
In the place of traditional paper-based and excel processes, there has been a move towards increasing digital automation and systems reliance.
No longer just the domain of software developers, as the worlds of finance and software continue to integrate, there is a need for finance teams to be more heavily involved in system development work. Automation is changing the way we run our businesses - meaning financial systems and those in the accounting/finance world that are worth their salt are adapting to capitalise on these technologies.
In this blog post, I'll explore how finance professionals can roll their sleeves up and add real value when working with IT specialists on system changes to progress their businesses and career development.
What does 'end-to-end' really mean?
An analogy of an end-to-end process is a traveller taking a bus trip around the North Island. There is a start point, then several stops and interactions along the way. Photos and social media posts record the trip, and after arriving at their final destination, the traveller has an overall assessment of how the trip went.
If we think of a sales process for a business in the same end-to-end way, the financial system can be thought of as the final destination. Each transaction in a sales process can be viewed as a sequence of data which will culminate to a report or dashboard showing financial metrics and (hopefully) a successful bottom line. Inevitably, all roads (or systems/databases) at some stage will lead to the financial system. It's the where and how the roads meet and intersect that determine the measure of a system's worth.
So how do finance people get involved?
As business advisers, accountants and finance experts have become more tech-savvy and are increasingly required to work closely with IT teams to understand each step of the system journey. They add immense value by providing input into these end-to-end processes to deliver robust financial systems and reporting. While accountants work on the finer business details, CFO's and finance managers are often the champions of such projects, responsible for delivering the project on time and within budget.
To demonstrate more specifically how accountants and those in finance teams can provide value during system upgrades and changes, let's look at the example of a company selling goods through a website or mobile phone app: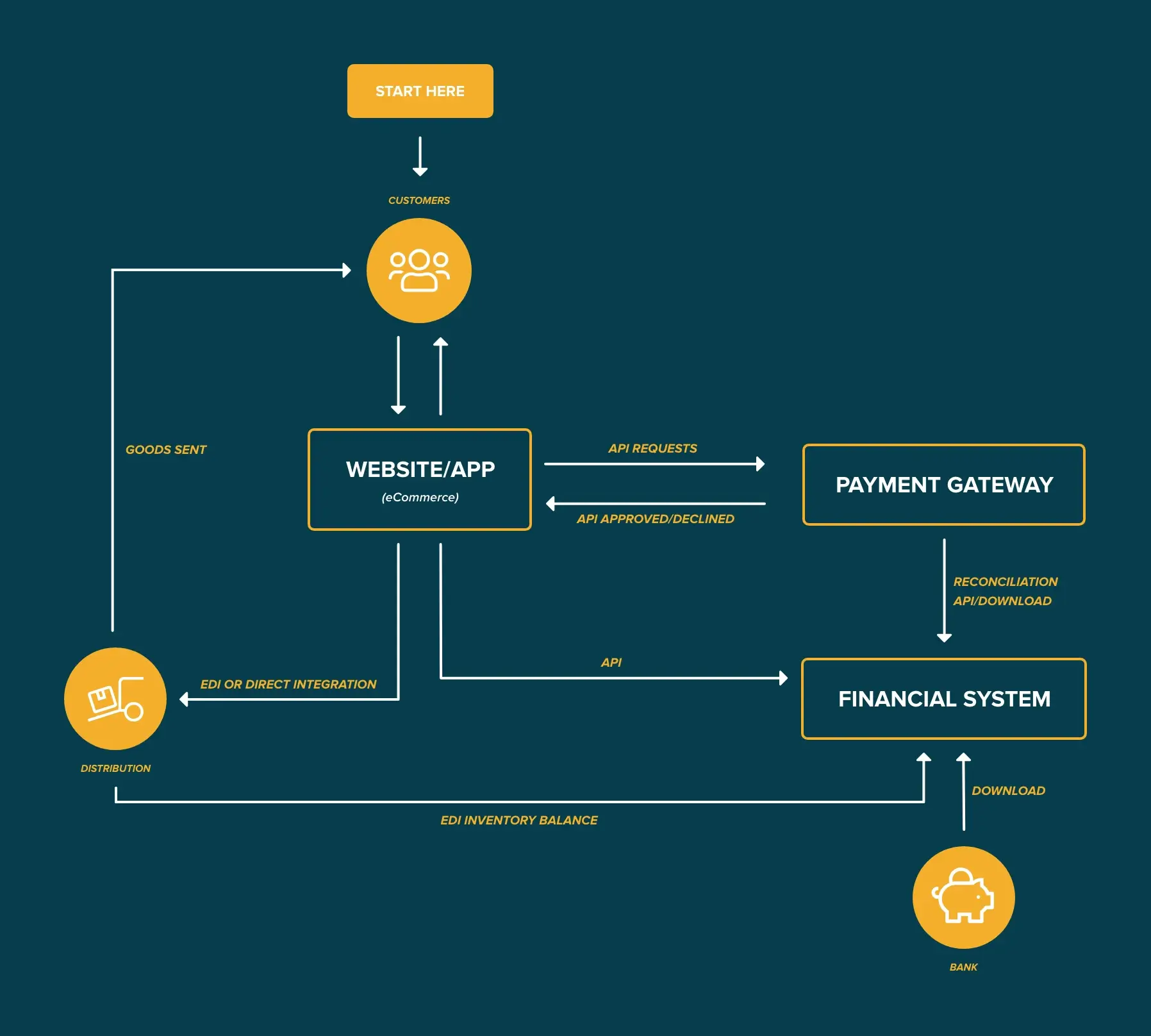 The above diagram can also be broken down into the following steps:
A customer browses the website, orders and pays for items online
↓
This generates a sale and payment receipt transaction for the financial system
↓
Often, there will be an API (Application Programming Interface) or RPA (Robotic Process Automation) to complete the sale and take the customer payment, integrate with an inventory system, reconcile the customer payment in the financial system, and advise any external parties e.g. a courier company
↓
In most cases, there is some sort of middleware validating the data before generating a financial transaction and pushing it through to the financial system
↓
All of this information is held or managed by a series of processes initiated in the e-commerce portal
 
 In developing the above system and end-to-end process, an accountant/finance team can add value by being involved in the following ways:
Looking at financial transaction modelling from the sales system to the financial system
Risk identification and mitigation through appropriate controls and transaction logging
Process documentation - requirements analysis and documenting business processes
Collaborating on systems architecture
Testing systems - end-to-end testing to ensure the system is robust
Project budget creation and management:

Managing deadlines
Communication with stakeholders
Ensuring data for reporting requirements is captured e.g. IRD and other legislative reporting, dashboards and board reporting


Why collaboration is more important than ever
Evolving technology means the role and scope of an accountant and their finance team need to keep pace. Gone are the days where they were primarily focussed on transactional processing and data entry. To succeed, the finance teams of today need to take a system and business process approach which often results in an overlap in the skillset of accountants and IT specialists. But if dealing with experienced IT specialists, the accountant/IT team combination can form a powerful partnership enabling a streamlined, valuable business system.
By partnering with operations and IT specialists in all aspects of a project, from process documentation and transaction modelling to testing and project management, the benefit of having a financial person involved ensures the appropriate checks and balances are in place, and ultimately ensures a sustainable business foundation that has a much better chance of succeeding and keeping the business on track.