This month Mainfreight turned 40 - Happy Birthday Mainfreight from the Sandfield team.
We've had a long partnership with Mainfreight, starting shortly after our own launch in 1989. The strength of our relationship has always been in developing systems to meet Mainfreight's exact business requirements - delivering everything they need and nothing they don't. Without getting too misty eyed, I've reflected on a few of the philosophies that sees Mainfreight celebrating such an impressive business milestone.
The initial connection was through Colin and Brent's expertise with a 4th Generation Language (4GL) called A*L*L which ran alongside McDonnell Douglas's version of PICK, branded Reality which was regarded as the first RDBMS. At the time it was an unconventional choice because databases were new and their role and subsequent importance wasn't generally recognised.
The CIO of Mainfreight, Kevin Drinkwater, liked this platform because it was flexible and relatively quick and easy to develop new systems. This was an inspired decision because Mainfreight's rapid growth and enduring commitment to the careful use of technology continues to stretch both technology and people to this day.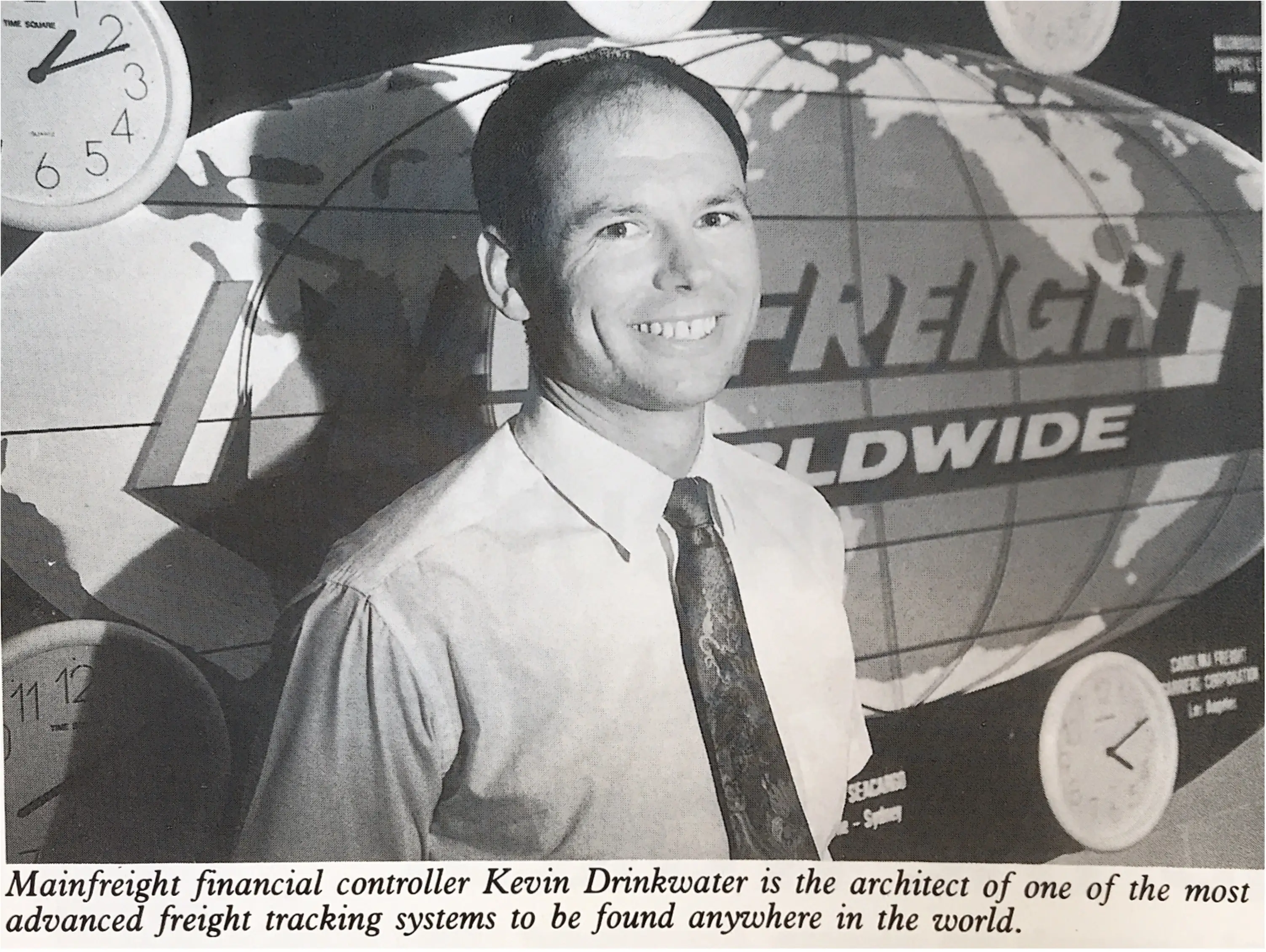 Image sourced from NZ Trucking Magazine, March 1992
In 2018, it's incredible to think that the early use of computers was mostly to replace mechanical Accounting Machines. Like all businesses at the time, Mainfreight's key focus with their early computers was to process Debtors. The business ran on multi-part Consignment Notes, a copy of which was forwarded to Auckland for entering into the Debtors Ledger. At one time this was literally a box of Ledger Cards.
Mainfreight has been intuitive and courageous with technology at many times during its 40 years. Arguably the most inspired insight was the decision to use computers beyond processing debtors and accounting roles. Although entirely obvious today, the idea to use computers for operational purposes, updating consignment records as the goods moved through the branches, was radical in New Zealand at the time. 
Arguably the most inspired insight was the decision to use computers beyond processing debtors and accounting roles
This transition involved significant risks. Technology wasn't totally reliable and didn't always play nicely together. Using a computer went from something the punch girls did in head office to a ubiquitous activity that involved an ever growing number of the Mainfreight team. The transition, like many since, challenged both man and machine, but Mainfreight persevered driven by their own style of pragmatism and unrelenting determination.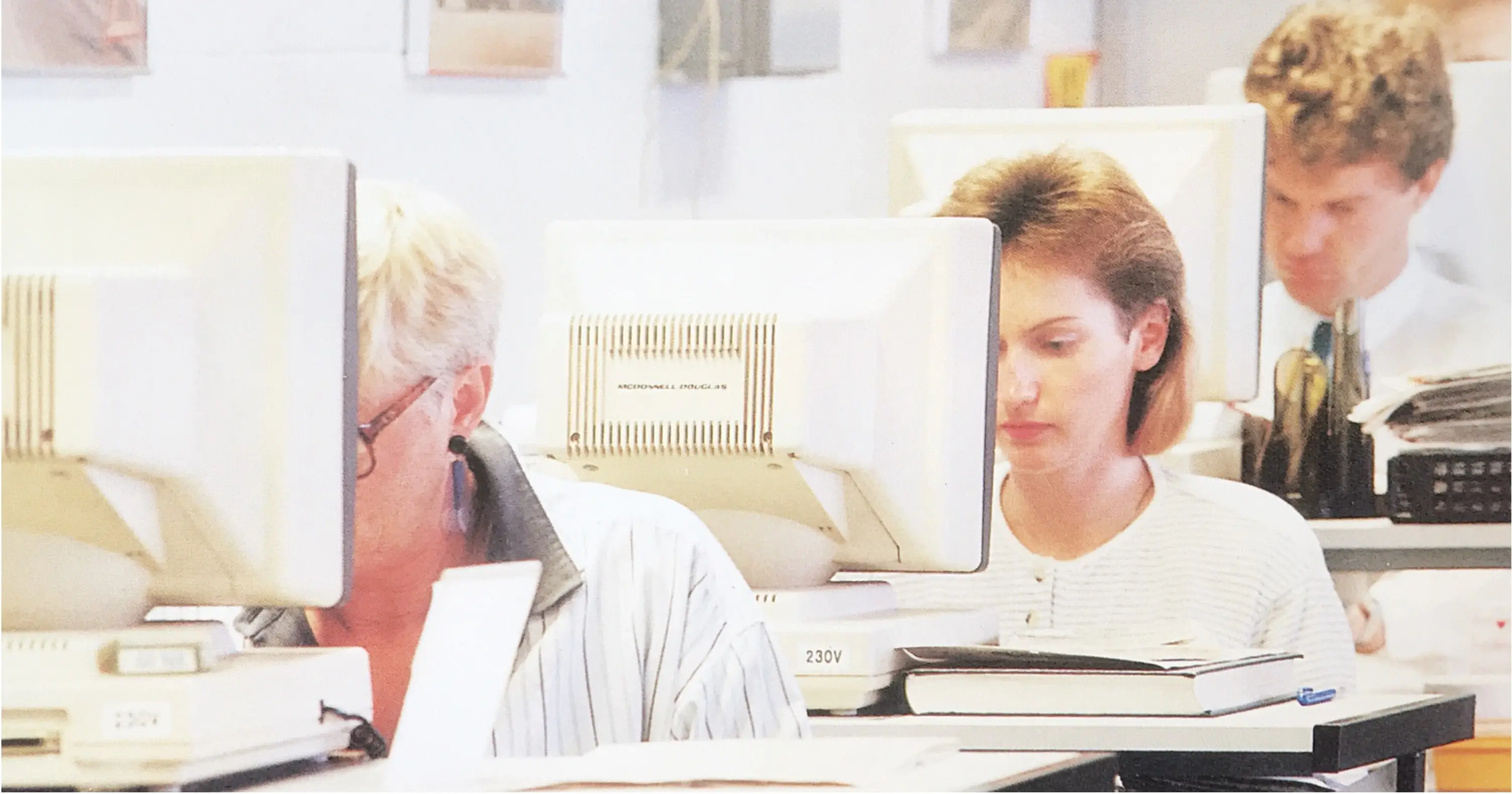 The Mainfreight accountancy team hard at work, sourced from Mainfreight Company Profile in 1992.
The idea that Mainfreight could grow from its base in NZ into an international logistics provider isn't a conventional insight either. Freight and supply chain management might seem like a conventional business but the idea of global expansion from NZ is not. Every big push into new markets has also involved significant risks and a large following of doomsayers. These transitions have been challenging but with pragmatism and unrelenting determination, Mainfreight persevered. 
Mainfreight has had the courage to do things their way and to stay the course.
Their technology needs to fit the business rather than changing the business to suit the technology. Mainfreight has had the courage to do things their way and to stay the course Ideas and innovation comes from any team member and systems are constantly improved from this process. Rather than upgrade the ERP to Version whatever, Mainfreight's systems fit them like a glove. Over time this creates a Special Company, Special People and Special Systems. 
That courage has paid off -

It's been a tremendous privilege to serve Mainfreight and we appreciate the opportunities they have provided us, it's a Special partnership. Happy 40th!