21 July 2022
Modern technology has paved the way for devices such as smartphones, smartwatches and even voice assistant devices to make our lives easier, faster and better. The way in which businesses interact with customers has changed tremendously in the past decade, with over the phone contact becoming increasingly time-consuming for many large organisations and for the end customer. Managing internal and external communications is a strenuous task, with many businesses relying on people to perform tasks that if automated could save both time and money.
Mainfreight are constantly looking for ways to improve their customer experience and ensure they are operating at optimal efficiency. Utilising an SMS approach for a company as large as Mainfrieght was a no brainer. It improves reliability, is cost-effective and is generally much quicker, ensuring a more effective operation. Although not a new technology, Mainfreight wanted to extend their existing SMS functionality with the introduction of a SMS delivery portal that would improve their communication within the B2C market through their Mainfreight 2Home service.
Why convenience is essential
Convenience for the customer has and always will be a driving factor in the organisation's success. With the emergence of smart tech, convenience is not only appreciated but often expected and so giving the ability for customers to respond to notifications at a time that is convenient to them without the need for human interaction helps Mainfreight achieve their goal of "being easy to do business with".
"Calling a receiving customer to arrange a suitable day to deliver their consignment was taking hours out of our team's day, often fruitlessly calling several times trying to reach customers who were at work and unavailable to take our calls" (Mainfreight).
Creating better user experiences for the team and customers
Sandfield recently completed the project for Mainfreight in which a new SMS portal was implemented. The SMS portal would allow Mainfreight's team to save huge amounts of time when scheduling delivery windows as well as having more control over specifics around weight, volume and number of consignments within a delivery window, ensuring they would not 'over promise and under deliver' to the customer. The team can now send one or multiple customer notifications by SMS at the click of a button.
In addition to this, the customer was given the ability to respond at a time that is convenient for them, having visibility of delivery window options and receiving progress notifications.
The customer receives a text containing a short note and a link to the SMS platform where they can select from a range of options:
Confirm the suggested delivery date window

Select an alternate delivery date window from those available

Add delivery instructions

Add notifications to receive updates when their consignment is out for delivery or delivered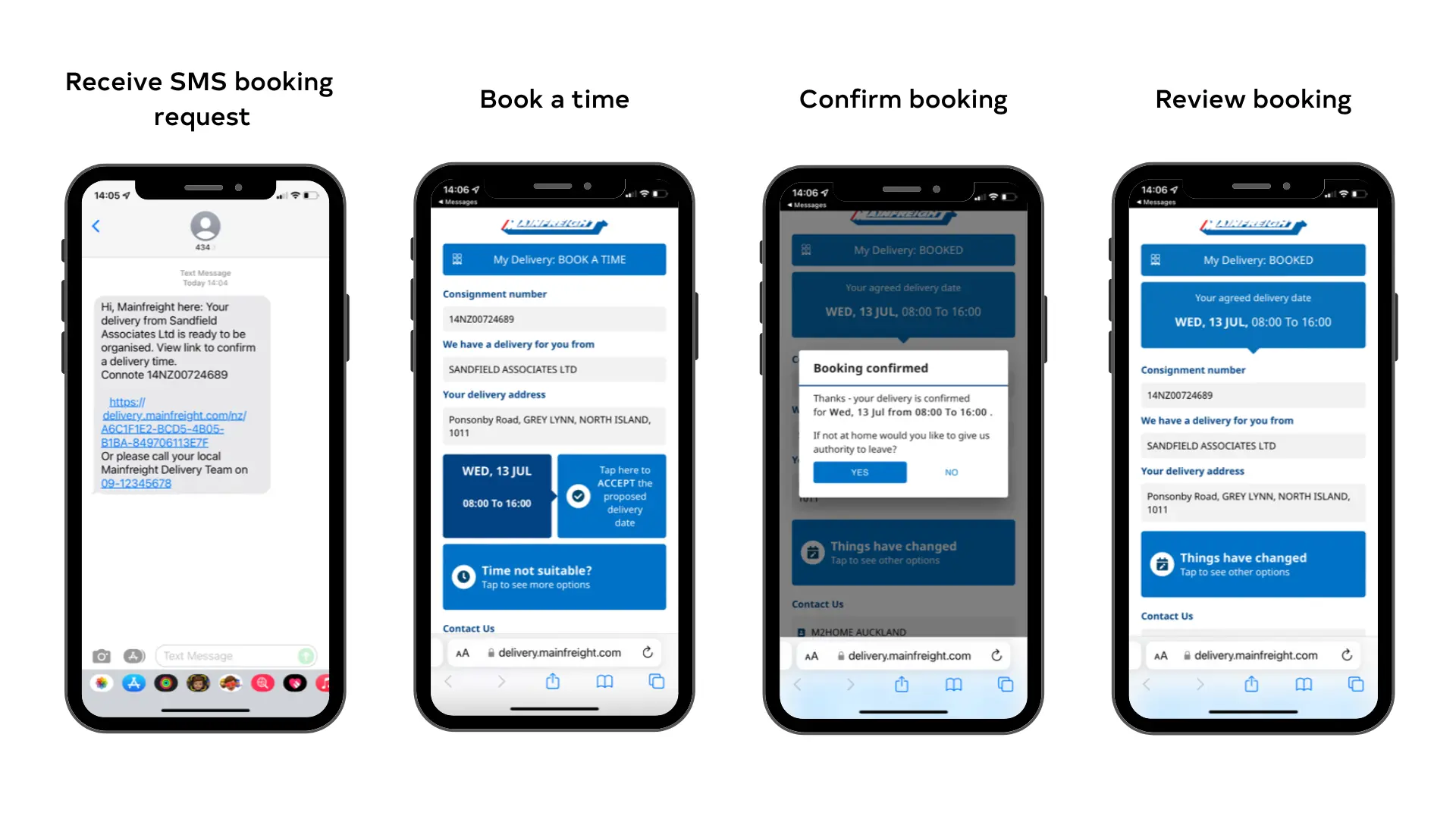 Small improvements make big impacts
As is the case with all of our customers, we are constantly looking for innovative ways to improve their operations - we like to think of it as small improvements that make a big impact.
We are proud to have worked with Mainfreight for over 30 years and have established a strong working partnership that allows for open discussions and collaboration to achieve the best outcome for Mainfreight and their customers.
Related Articles