15 August 2019
ParkMate is New Zealand's most popular parking app today, loved by New Zealanders for its value and ease of use. This broad consumer appeal has also meant it is a commercial success story. Originally developed and launched within a 6-month time frame back in 2015, read how we've evolved the ParkMate app since then and where to next.
A problem becomes an opportunity
The original concept for a parking app was first mooted in 2015 when ParkMate were seeking a competitive edge and a tangible reason for drivers to choose one of their car parks over another parking provider.
ParkMate recognised that securing paid parking was a stressful and sometimes negative experience. They believed an opportunity existed to make positive changes so their customers could spend less time worrying about their parking and more time enjoying what they've come to do. Their goal was to give their customers greater control, flexibility, visibility and ease over their paid parking experiences by developing a parking app.
The Sandfield solution: a game-changer
ParkMate chose Sandfield as their software partner to deliver a solution. Throughout the development process from scoping to delivery, they appreciated the depth of conversations with Sandfield and the productive exchanges that took place so Sandfield could fully understand the intricacies of their business and respond with a tailored solution.
The original app was developed and launched within a 6-month time frame with Sandfield adopting the ''simplicity first" approach and design philosophy. Since it first launched, the app has been continuously developed with the addition of new features including promo codes, campaigns and many other improvements. The product was also rebranded in 2018 and Sandfield responded by making simple changes to the app to reflect the new broadened range of carparks now available on the app. Here's how ParkMate looks today.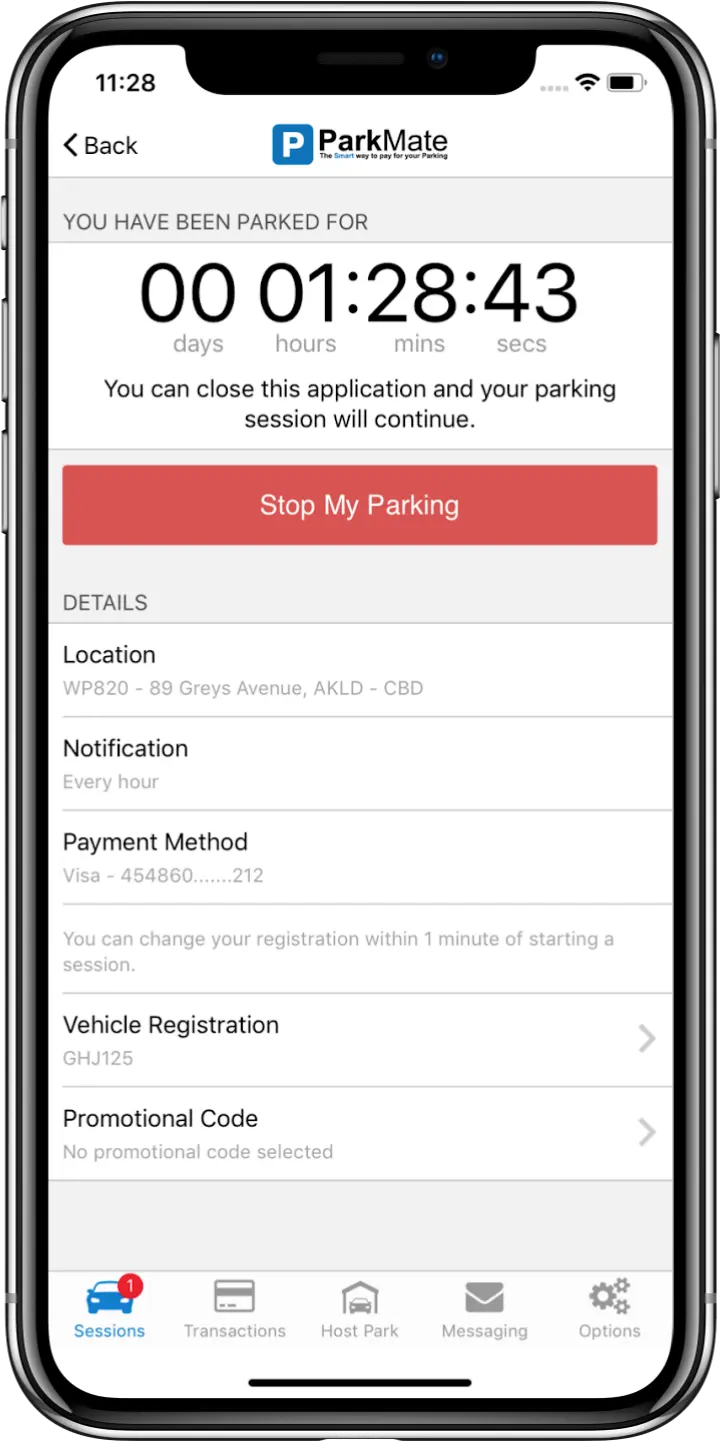 Consumer feedback for ParkMate is very positive by virtue of the integrity and usability of the software and platform. Building the ParkMate platform with easy-to-use administrative functionality was also an important consideration.
A sophisticated rates management engine allows ParkMate administrators to configure each car park individually based on numerous variables such as parking type, time of day, minimum or maximum stay, and Earlybird rates, to name a few. The system was developed to calculate all possible rate combinations and select the lowest cost option guaranteeing users the best rate for their parking session.
The platform's administration module also allows for campaign management and short-term options to be added such as special event parking, and for new promo codes to be added and managed efficiently. Despite the extensive level of customisation, the programme is cost-effective to operate and doesn't rely on expensive gate or entry/exit infrastructure.
A problem becomes an opportunity
The ParkMate App is loved by its users for its value and ease of use. This broad consumer appeal has equated to commercial success; in 2017, ParkMate app was acknowledged for driving the sales growth of the organisation. "Parking has experienced strong year-on-year volume growth attributable to demand for the new ParkMate app payment platform," CEO Stephan Wuffli commented at the time, elaborating that "the app has reduced a lot of the pain points associated with pay and display parking operations." (Source)
Where to from here?
As an extension of the ParkMate offering, Sandfield has now developed Host Park. This new consumer offering allows individuals or 'Hosts' to earn income from vacant private car parking spaces they have. The Host has full control of their car park and can set their rates and availability. ParkMate users have access to this private pool of carparks during the hours specified by the Host.
ParkMate identified a business opportunity from what was once considered a 'pain point' for consumers. The result today is that the ParkMate app is a successful mobile innovation that has made the angst of finding and paying for suitable parking a thing of the past. The results speak for themselves and we're proud to be an integral part of this commercial success story.
You can download the apps here:
Related Articles