16 July 2018
Project Quality Solutions (PQS) is a specialist property assessment company with a long and successful track record delivering a range of inspection services and quality assurance programmes. It has completed more than a million property surveys across New Zealand for Housing New Zealand Corporation, Community Group Housing providers, Local Government and private property owners.
PQS wanted a leaner operation through smarter software to give it an edge
Established in 2000, PQS is respected in the housing industry for its objective recording and reporting, flexible and dedicated assessor workforce; with data systems that provide reliable methods and results. Housing NZ often notes PQS is "trouble free" to work with and despite a high volume of jobs, they've had relatively few issues in the field.
The challenges
The PQS business fluctuates with changing annual rental housing demands amidst the backdrop of a competitive, volatile property industry that is also shaken up regularly by everything from earthquakes to regular changes in government policy.
The property assessment company is reliant on the work it wins, thus operating business from a competitive year-to-year perspective. PQS needs to be agile in its operations; with lower overheads in terms of fixed staff numbers and overall operating costs. It also needs to be able to scale up or down quickly when work demands it. Because housing regulations and issues with individual properties are constantly changing, PQS priorities and reporting demands must adapt to suit to ensure they stay competitive.
PQS' previous software management system had limited capabilities and was adding to the team's workload with its inefficiencies. It wasn't able to 'talk' with the Housing NZ system, effectively meaning its main client couldn't receive PQS data electronically and the PQS office team was having to manually download and send PDFs to communicate information.
The property assessment company needed a custom software solution to efficiently meet the agile and unique needs of its business that an off the shelf product wasn't able to provide. PQS wanted a leaner operation through smarter software to give it an edge.
The solution
"The Sandfield approach is to design a solution tailored to your business needs and then deliver it,"
- Robin Ashby, General Manager, PQS
The Sandfield team worked with PQS to develop a system that would adapt to the constantly changing nature of property assessment and scale up smoothly when needed, solving business problems with the smarter use of technology.
"The Sandfield approach is to design a solution tailored to your business needs and then deliver it"
Sandfield developers built 'Calibre' on the foundations of proven frameworks crafted from years of experience working within similar industries. The team configures the system and customises the UI to work for the unique business needs at hand.
The Sandfield team has also built Calibre Mobile, which allows assessments to be captured online using tablets.This program has built-in offline functionality for assessors working in remote places - so PQS can see the reports as they're done, keeping deadlines met and cementing their industry reputation as that "trouble free" pair of hands to be relied upon with any project, upping the chances of being selected for future work.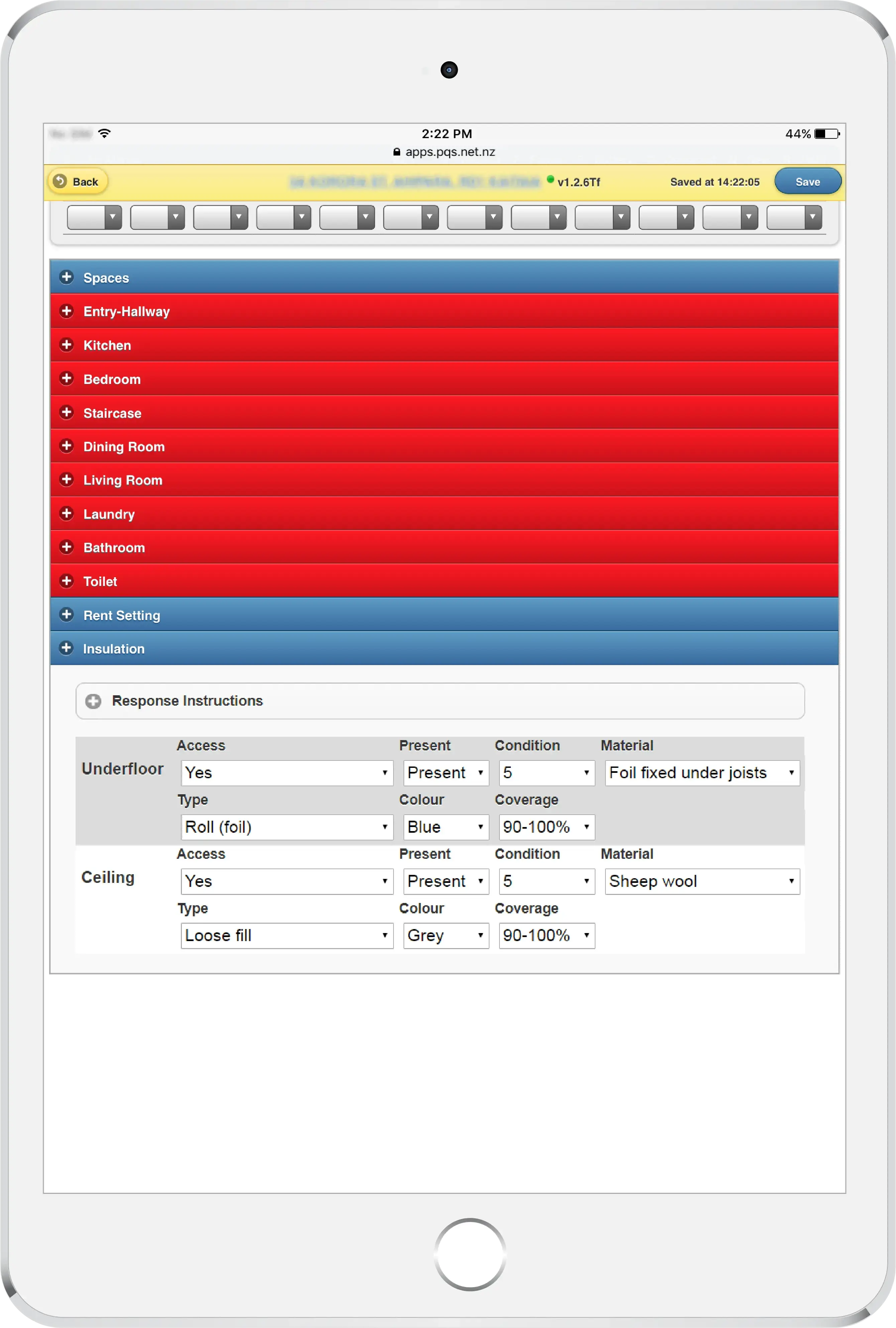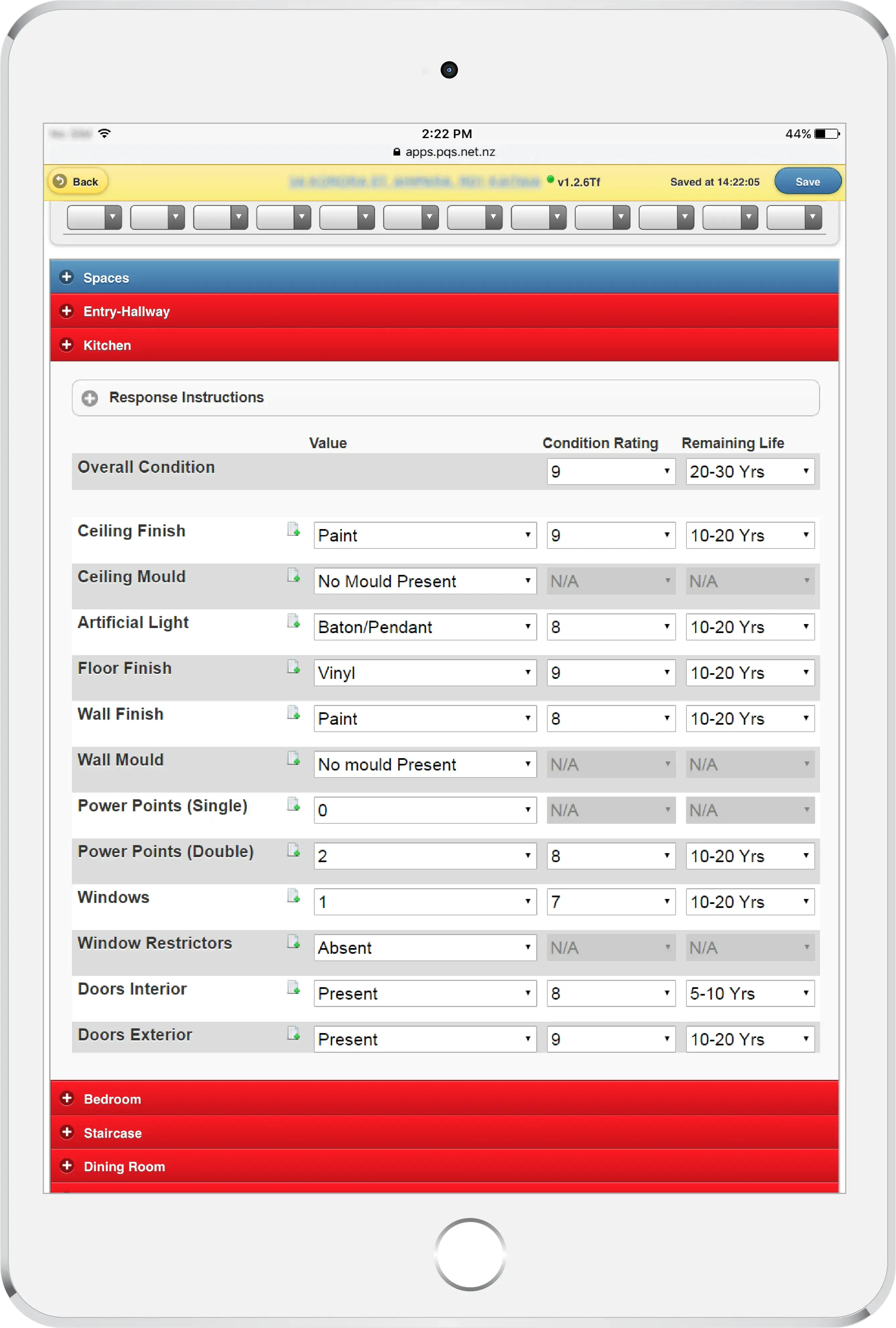 The results
"Although we have a nationwide team of 25 assessors processing 60 thousand reports annually, we are lean in the office - because our customised software solution is so efficient,"
- Robin Ashby, General Manager, PQS
Calibre is the main management tool for the business. The custom software adapts to PQS' day to day operations which can vary from year to year - it scales up smoothly to meet the wide range and scale of customer needs. With such a large volume of work, the system provides much needed live and robust progress reporting to ensure the team stays on track with deadlines and deliverables.
"One of the greatest challenges to service delivery is gaining access to a property to carry out the inspection. PQS has developed a multi-stage approach to gaining access that is time effective and results in a final access strike rate of 97% or higher. The high access rate is consistently achieved due in part, to the trustworthy relationships established between PQS assessors and HNZ tenants over many years and the flexibility of Sandfield's technology to manage our contract"
- Phil London, Managing Director, PQS
Building long-term partnerships
PQS and Sandfield have been working together for nearly 10 years, either engaged in big projects or with the developers working at a more low level, maintenance capacity on Calibre system updates.
"Sandfield's responsiveness is great - it's a real partnership, it's not just a "oh we'll leave it until tomorrow morning" - the team at Sandfield understand when we are under pressure and are committed to finding a solution to help us deliver,"
- Robin Ashby, General Manager, PQS
The future
PQS worked with Housing New Zealand (HNZ) and Ministry of Business, Innovation and Employment (MBIE) to develop a Rental Housing Warrant of Fitness. This was trialled in 2014 and PQS carried out the "WOF" checks on 500 HNZ properties across New Zealand. Criteria for the Warrant of Fitness was grouped into three key areas:
Insulated and Dry – Homes are free from moisture and warm to live in
Safe and Secure – Homes are safe and secure to love in
Essential Amenities – Homes have essential services and amenities
PQS is always looking at other ways of adding value to the property assessment market, it is currently developing a customised solution for a "Residential Warrant of Fitness and Healthy Home Package" as well as other asset information software programs with Sandfield.
Related Articles